The Dot (Paperback)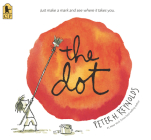 $7.99

Usually Ships in 1-5 Days
Description
---
With a simple, witty story and free-spirited illustrations, Peter H. Reynolds entices even the stubbornly uncreative among us to make a mark — and follow where it takes us.

Her teacher smiled. "Just make a mark and see where it takes you."

Art class is over, but Vashti is sitting glued to her chair in front of a blank piece of paper. The words of her teacher are a gentle invitation to express herself. But Vashti can't draw - she's no artist. To prove her point, Vashti jabs at a blank sheet of paper to make an unremarkable and angry mark. "There!" she says.

That one little dot marks the beginning of Vashti's journey of surprise and self-discovery. That special moment is the core of Peter H. Reynolds's delicate fable about the creative spirit in all of us.
About the Author
---
Peter H. Reynolds is the New York Times best-selling illustrator of the Judy Moody and Stink series written by Megan McDonald. He is also the creator of several picture books for children, including Ish, Sky Color, The North Star, and So Few of Me. The president and creative director of FableVision, Peter H. Reynolds was born in Canada and now lives in Dedham, Massachusetts.
Praise For…
---
In this engaging, inspiring tale, Reynolds (illustrator of the Judy Moody series) demonstrates the power of a little encouragement. . . . Reynolds pulls off exactly what his young heroine does, creating an impressive work from deceptively simple beginnings.
—Publishers Weekly (starred review)

With art that seems perfectly suited to the mood and the message of the text, Reynolds inspires with a gentle and generous mantra: 'Just make a mark.'
—School Library Journal (starred review)

Simplicity itself, like the dot in the title, this small book carries a big message.
—Booklist (starred review)

A fable about the creative spirit in every child.
—Nick Jr. Family Magazine Best Books of the Year

This small gem of a book tells the story of Vashti. . . . It's the beginning of a love affair with dots in many different colors, sizes and patterns — and a marvelous lesson about what art is.
—Washington Post

Readers can wonder about unsigned works that lie before us all.
—Chicago Tribune

In other hands this story about the power of the creative spirit could be preachy and overdone, but Reynolds keeps the voice fresh and the message subtle.
—Book Links

A wise and delightful tale for all ages.
—Yellow Brick Road

Reynolds' pictures in this parable . . . emphasize that all art, from the most impressive masterpiece to a child's simple scrawl begins the same way and by definition there is no right or wrong way to express oneself — an important lesson for anyone who is learning something new.
—Syndicated Column - Lynne Burke

This is a charming fable about faith and art. Reynolds's drawings have just the right lightness and whimsy to keep it all afloat in a cartoony watercolor-washed world.
—Boston Globe