Anyone trying to order a copy through the website, CALL THE STORE (317-255-2598)! Our online store isn't able to process orders for this title. Sorry for the inconvenience!
On Tuesday, October 15th, the creators of Wake Up, Woods - authors Michael Homoya & Shane Gibson, illustrations by Gillian Harris - plant themselves at Kids Ink Bookstore starting at 6PM to talk botany, ecology, poetry, and how all three make a great picture book for children! Also on hand will be Ruth Ingraham, Melissa Moran and Carolyn Wamsley - the people who planted the seed that's bloomed into this book.
Wake Up, Woods showcases the splendor of our warming forests and offers clues to nature's annual springtime floral show when walking the region's parks and wilderness areas or even in shade gardens around our homes. Readers will see a captivating look into our forests' biodiversity, showing how species depend on plants for food and help assure plant reproduction. Wake Up, Woods celebrates some of nature's most fascinating moments that happen in forests where we live and play.
As a natural history illustrator and botanical artist, Gillian Harris works at the intersection of art & science. Gillian's studied at Indiana University, Harvard, and University of Michigan. She's illustrated field guides and garden books, and has exhibited her illustrations in zoos, botanical gardens, and at the Smithsonian National Museum of Natural History. Michael Homoya has been a botanist and plant ecologist for the Indiana Department of Natural Resources' Natural Heritage Program since 1982. Mike discovers, inventories, and assesses natural communities to determine what should be included as state dedicated nature preserves. At an early age, Shane Gibson's dad immersed him in nature through fishing, hunting, searching for morel mushrooms, walking the farm for historical artifacts, and just playing outside. This immersion grew into a life-long passion for the outdoors. Ruth Ingraham, Melissa Moran, and Carolyn Wamsley each enjoy a passion for the natural world and ensuring future generations can enjoy it too, which drove them to initiate the project that would become Wake Up, Woods.
Wake Up, Woods provides an opportunity for friends, parents, teachers and librarians to teach and read to children about the various plant and insect life in the MidWest, Northeast regions and along the Appalachian Mountains.
Mark your calendars to stop by Kids Ink on October 15th from 6-7:30PM, because this union of science, art, poetry, and passion simply doesn't happen often enough. You'll want to seize the moment while you have the chance!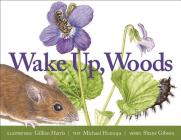 $18.95
ISBN: 9781947141469
Availability: Usually Ships in 1-5 Days
Published: Rubber Ducky Press - October 1st, 2019
---